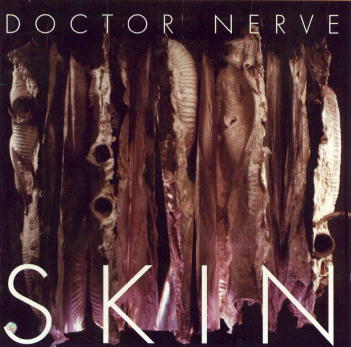 Doctor Nerve, SKIN
CD on Cuneiform Records
---
Doctor Nerve has released their fifth CD, SKIN, on Cuneiform Records.
Buy it now from iTunes Music Store or from Cuneiform Records
Listen to the first cut, Plague in RealAudio format or in MP3 format*

In an interview with Jeff McLeod of The Subversive Workshop Newsletter (Feb 1995), band leader Nick Didkovsky says the following of their new CD:
SKIN is much more extreme than any previous Nerve project. Everything we've done to date has been amplified and expanded radically. For example, my composition software has gotten a lot more sophisticated and abstract. By contrast, the metal edge on what we do has been sharpened; there's some way-over-the-top metal tunes on the record, of course totally twisted in the Nerve tradition.
Q: What's your life goal as a musician & as a member of Doctor Nerve?
A: The goal? Keep doing what we were born to do until we drop dead. That, and put the words Doctor Nerve in the cultural vocabulary of every person with two ears and a brain between them.
SKIN was produced by Nick Didkovsky.
For further information, contact:
Nick Didkovsky / Punos Music / Nerveware
118 East 93rd Street, Apt 9C, NYC NY, 10128-1665
Tel: (212) 369-1733, Fax: (212) 996-4214
E-Mail: didkovn@mail.rockefeller.edu
You may also contact Cuneiform Records via e-mail: cuneiway@aol.com
Please include your snail mail address in all correspondence to Cuneiform
Credits:
Skin Rack by Sara Garden Armstrong, photo by Krasner/Trebitz, design by Stefanie Green.
RealAudio archive maintained by Cuneiform Records

* Regarding MP3 file of Plague:
The copyright of these recordings is held by Nick Didkovsky, with exclusive rights to manufacture, sell and trade in said recordings held by Cuneiform Records.

These materials are online for downloading for personal use by individuals only. They may not be sold, used in synchronization, or used in any way other than for personal listening by any individual or company.
Back to Doctor Nerve Main Menu.