Schubert's Impromptu in Eb Major, Op. 90, arr. Minsky Popolov
Nick Didkovsky deconstructs Schubert's Impromptu in Eb Major with a new Java software instrument he designed.

The Impromptu itself was prerecorded to disk by piano virtuoso Evelyne Luest. Didkovsky's software extracts musical statistics ten times a second from Luest's interpretation. Then, during the performance, Didkovsky creates his own statistics, merging his with Luest's to varying degrees.

A virtual piano player interprets the blend of Didkovsky's and Luest's statistics in real time, creating a rendition of the Impromptu that shifts between faithfully performed passages and radical statistical distortions.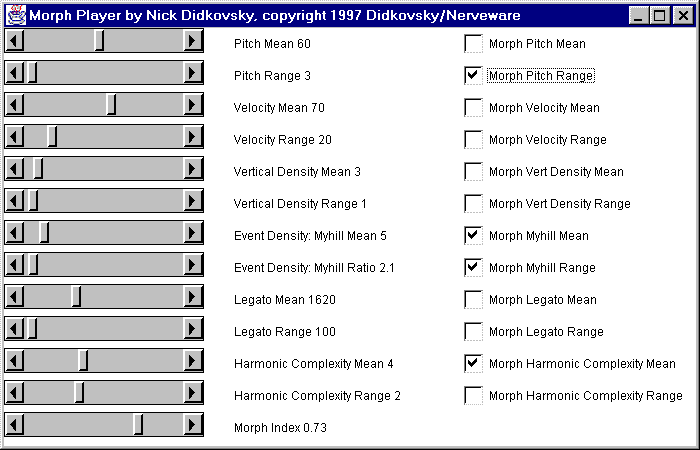 Nick Didkovsky is a guitarist, composer, and computer music programmer. In 1983, Didkovsky founded the avant-rock septet Doctor Nerve. He presently resides in New York City, where he composes for Doctor Nerve, the Fred Frith Guitar Quartet, the Bang On A Can All-Stars, and others. Didkovsky has received commissioning grants from Meet the Composer, The Mary Flagler Cary Charitable Trust, Steven Schick & Maya Beiser Duo, and The Jerome Foundation.

Contact: Nick Didkovsky, didkovn@mail.rockefeller.edu

---
Java Plays Schubert Artist's Statement
---
Doctor Nerve Main Menu