Doctor Nerve and Sirius String Quartet
New CD: Ereia


Avant-rock septet Doctor Nerve joins forces with new music mavericks Sirius String Quartet to perform Ereia, a new piece by Nick Didkovsky.


---
CD RELEASE OF EREIA: MAY 16, 2000 on CUNEIFORM RECORDS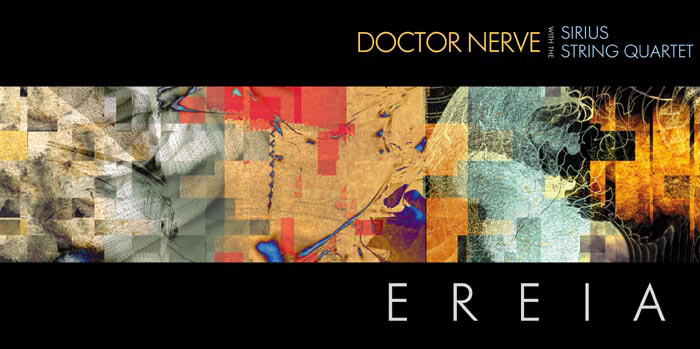 Purchase the CD (special offer)

---

Hear some MP3 excerpts from the CD. These MP3's were created directly from the 24 bit sound files used for mastering.
---

Reviews from premiere at Victoriaville's FIMAV Festival:

The grand moment of the FIMAV '97 Festival was the triumphant premiere of Ereia by Doctor Nerve and The Sirius String Quartet.
(Mike King, Improjazz)

Doctor Nerve, those bionic bohemians of orchestrated hardcore, molten, avant-rock-jazz that can go from 1 to 120 in 2.3 seconds and stop on a dime. The set with the Sirius String Quartet showed off Didkovsky's talents as a composer/arranger and perhaps as a mathematician, too, since many of the themes and rhythms of this three-movement piece were created in tandem with the compositional computer software which he has developed. Sophisticated savagery. So cool it's hot.
(Vern Weber, Exposé)

The ambitious piece contrasted sections of through-composed counterpoint with a central movement where Didkovsky led the combined ensemble through a conducted improvisation as he spontaneously layered and juxtaposed slashing rhythms, horn trills, string glissandi, and synth smears like an aural painter.
(Michael Rosenstein, Cadence)

Selon moi, le grand moment du FIMAV 97 était la premièretriomphante de Ereia par Doctor Nerve et le Sirius String Quartet. Ereia est en trois mouvemeents; le premier en quatre parties pour le Sirius Strings, le deuzième pour Doctor Nerve et cordes dirigés par Nick Didkovsky, et le troisième pour l'ensemble de onze musiciens. Le deuxième et troisième mouvements nous ont montré la maturité de Nick sur des petits et grandes groupes instrumentaux puissants. On ne peut jamais prévoir où un crescendo peut tout d'un coup a'accrocher ou exploser. Pas plus que ne pourrait le furieux son collectif libérer l'auditeur d'un engagement total. Nick s'abandonne aussi à de terrifiants soli qui font sa marque. En rappel, Doctor Nerve a joué vingt minutes étranges de leur énorme Cd Skin. Ca fut un drainage physique et néanmoins une magnifique expérience de concert.
(Mike King, Improjazz)

...a brainy foray by Doctor Nerve, led by muscle-fingered Didkovsky...
(Josef Woodard, Jazziz)


---

Performers:
Greg Anderson - bass
Leo Ciesa - drums
Nick Didkovsky - electric guitar
Yves Duboin - soprano sax, flute
Joyce Hammann - violin
Rob Henke - trumpet
Liz Knowles - violin
Ron Lawrence - viola
Michael Lytle - bass clarinet
Todd Reynolds - violin
Kathleen Supové - keyboards
Tomas Ulrich - 'cello
Mary Whitaker - violin
Mary Wooten - 'cello



---
Recording journal
CD Reviews
---
The commissioning of Ereia was made possible by the Mary Flagler Cary Charitable Trust and the Jerome Foundation with support from Harvestworks and American Composers Forum. The premiere of Ereia at the FIMAV Festival was funded with support from Arts International. The recording of Ereia was supported by a grant from the Aaron Copland Fund for Music.

Score available, please inquire didkovn@mail.rockefeller.edu

Visit Cuneiform Records and see what else is new.
Ereia CD cover art by Bill Ellsworth.
Doctor Nerve Main Menu