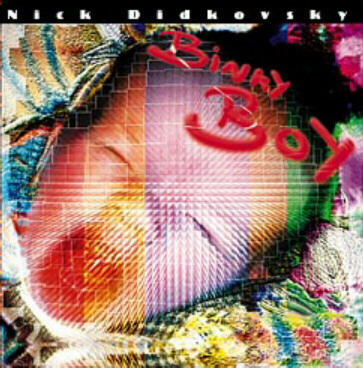 Binky Boy, Electric Guitar Music by Nick Didkovsky, with Fred Frith, Mark Howell, Rene Lussier, and Mark Stewart
Get it on Bandcamp!
Or purchase physical CD from Punos Music:


Binky Boy explodes electric guitar conventions, covering ground from Greek folk music, to radical sound constructions, improvisation, and intricate composition for guitar quartet. Founder and composer of the avant-rock band Doctor Nerve, Nick Didkovsky invites guests Fred Frith, Rene Lussier, Mark Stewart, and Mark Howell to reshape and redefine the possibilities of the electric guitar on this new all-electric guitar CD.

Don't believe us? Listen to We'll Ask the Questions Around Here in MP3 format.

"Radical technique... amplified artistry..."
David Lewis, Cadence

"There are things happening on this recording that defy description and categorization; harmonic disturbances and sounds that one might think that a guitar was incapable of. This release is a milestone in the trek of the guitar's evolution."
Jeff McLeod, Subversive Workshop

"Tout au long de l'album, Nick Didkovsky s'applique à nous faire oublier le son conventionnel de la guitare, modifiant tous les paramètres possibles de ses instruments et allant aussi loin que lui permet son imagination."
Sebastien Petit, SLEEPLESS RCV


---
Contains:
We'll Ask The Questions Around Here, part 1
Egil the Skald
We'll Ask The Questions Around Here, part 2
Moab
Eine Kleine Gamelan Music (Dan Goode, arr. ND)
Signs of Life (Stavros Xarchakos)
Ganthia
Ice Cream Time (Booli Selmayr, ND)
Bubenwagen
I Kick My Hand
You Break It You Buy It (Mark Stewart, ND)
Black Iris
Ruth's Mirror

---
Download from Bandcamp
Or purchase physical directly from Punos Music:
---
Artwork by Bill Ellsworth. Cool, huh?